On controller remapping and related issues
Hi all,
In the past, as well as recently, some customers discussed about CC remapping. Here's a summary of the current status.
1) all versions of Akai EWI provide assignable continuous controllers, hence CC remapping is virtually never necessary.
2) this does apparently not apply to Yamaha WX5 and WX7. To WX5 or WX7 users, looking for real-time control of advanced features of our instruments, we may only recommend using additional continuous MIDI controllers, like one (or even two) expression pedals.
3) Users of keyboards without assignable midi controllers may in some case need CC remapping.
---
The Trumpet provides internal CC remapping of the most essential parameters (Dynamics, Vibrato intensity, Vibrato rate, Dynamic pitch and Portamento time. In case one needs remapping of other parameters, the Automation feature of Kontakt can be used (please refer to the Player or Sampler Manual for further details) :
- go to the Auto page of the Kontakt browser
- choose "MIDI automation" (not "Host Automation")
- locate the controller of your choice
- drag and drop it to the knob/controller on the instrument GUI
From now on, this knob will be controlled by the CC of your choice.
---
Mr. Sax does not provide this facility, since it does not use any MIDI knob to which the CC assignment can be applied. Several remapping utilities can be used to this purpose (see below).
---
a) almost all sequencers allow for remapping incoming midi controllers. This is definitely the best choice, except when our instruments are used in standalone mode.

b) PC users may use Midiox:

http://www.midiox.com/

MIDI-OX is a Windows 95/NTWin98/Me/2000/XP/Vista (32 bit) program. MIDI-OX is a multi-purpose tool: it can perform filtering and mapping of MIDI data streams. It displays incoming MIDI streams, and passes the data to a MIDI output driver or the MIDI Mapper.

MIDI-OX is copyrighted freeware, for non-commercial use.

c) Mac user may use Midipipe:

http://www.apple.com/downloads/macosx/audio/midipipe.html

MidiPipe is freeware. It can be useful in a music studio or live on stage to route, map, filter, convert, display, input and output MIDI messages in real-time. Mac OS X 10.3.9 (Panther) or higher is required - 10.5 (Leopard) is recommended.

A nice video tutorial on Midipipe has been kindly provided by Alex Pfeffer. Have a look:

Youtube: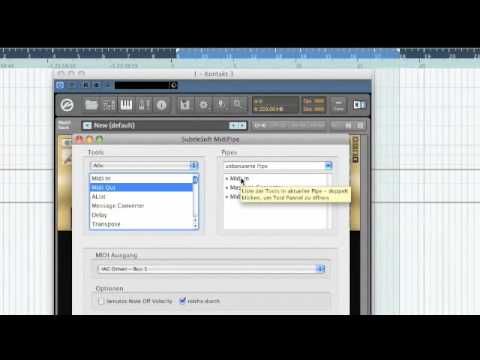 Vimeo :
Hope it helps,
Giorgio & Peter
Leave a Comment